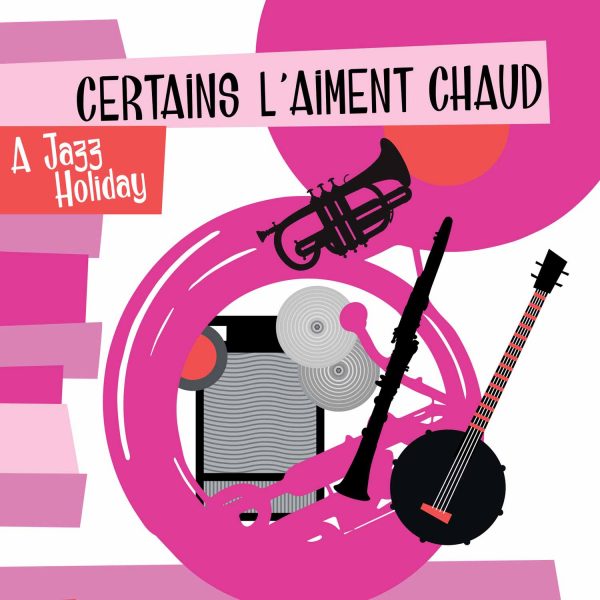 4.
I Gotta Right to Sing the Blues (H.Arlen, T.Koehler)
6:11
5.
Puttin' on the Ritz (I.Berlin)
4:11
6.
Taking a Chance on Love (V.Duke, J.La Touche & T.Fetter)
3:41
7.
Down Among the Sheltering Palms (A.Olman, J.Brockman)
3:30
8.
Runnin' Wild (A.Harrington Gibbs, J.W.Grey & L.Wood)
4:59
9.
The Man I Love (G.Gershwin, I.Gershwin)
5:01
10.
Zonky (T.Waller, A.Razaf)
3:43
11.
I'm Thru with Love (F.Livingston & M.Malneck, G.Kahn)
4:40
12.
a Jazz Holiday (W.Benton Overstreet, W.Melrose)
5:23
total duration:
56:02
It is a female band, which is not common, who gives us this very good album recorded in November 2017: Marie-christine « Kiki » Desplat (cnt, p on Taking a Chance on Love, voc, arr), Sylvette Claudet (cl, bass cl on Down Among the Sheltering Palms, voc), Nathalie Renault (bjo), Claude Jeantet (tu), Catherine « Cajoune » Girard (wbd, voc).
With a whiff of early jazz aroma (George Mitchell, Joe Oliver... ) an often touching cornet sound, good arrangements, pleasant vocal trios, all swinging gently, flexible, engaging... set in an organic sound, with respect to the timbres of the instruments and the general atmosphere. I had never heard Kiki Desplat before, found her playing had a natural drive and her singing had an authentic « Black » quality (vocal on Sugar Blues). She likes to stay in the medium range of the instrument, swings in well balanced phrases, with a lot of flavor. The clarinetist plays her part well, especially when harmonizing. « Cajoune », in a better setting here than on the Sweet Mama cd, grants us with a cheeky rendition of Taking a Chance on Love.
But the cornet player is really the one who pulls off the whole thing: her soloing has matter, particularly in the first few pieces.
I advise you to listen to this CD, it's jazz of today. (Daniel Janissier)